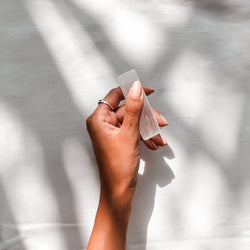 Selenite dispels negative energy and enhances clarity, focus and creates calm in any space, so if you feel as though you may need to clear up some unwanted or stagnant energy around you, this is the crystal for you.
Please do not wash or add this crystal to water bottles
Cleansing + Positivity + Forgiveness + Clarity
Selenite is one of the most important crystals to have in your collection due to its purification, clearing, and positive energy benefits.
In mythology, Selenite was associated with Selene, the Greek goddess of the Moon. This is also where this crystal gets its name.
Selenite dispels negative energy and enhances clarity, focus and creates calm in any space, so if you feel as though you may need to clear up some unwanted or stagnant energy around you, this is the crystal for you.
Place it somewhere prominent in your home to clear and cleanse the energy of your home. For a more powerful energy cleansing for your space, place one Selenite point in each of the four corners of a room to seal the energy with positivity and cleanse it of negativity.
Feeling drawn to the Selenite Crystal?
When you reach out for a Selenite stone, chances are you may require clearing of negative energies, forgiveness, positivity and mental clarity.
A Selenite crystal can also be used to cleanse the energy of your other stones. Simply place your other crystals in a bowl with the Selenite overnight.
Our Selenite Crystals range from 7-8 cms and their clarity and colour varies.
Shipping Policy
At Unique Muscle, we not only strive to supply the best products in the marketplace but we also strive to ensure that your order reaches you as quickly and efficiently as possible. Our easy online purchasing system ensures your order is delivered to us instantly so we can then process and send to you as soon as possible.
Delivery Time Frames:
These times may vary depending on your area.
| | |
| --- | --- |
| International Standard | 7-14 Business Days |
Delivery times do not include handling time.
Shipping Fees:
Shipping rates are calculated in USD upon entering your address during the checkout process. All applicable customs fees, taxes and duties are the sole responsibility of the customer.
Customs authorities require that the value of your order is displayed on your package – the value is the retail cost. Unique Muscle can't mark any package(s) as a "Gift" in order to avoid customs and duties fees.
Please note: on rare occasions, customs agents may delay the delivery of some packages at their discretion; this is unfortunately out of our control. For more information on customs and duties charges, please contact your local customs.
Shipping Company:
Upon receipt of your order, your order details will be electronically forwarded to our 3rd party fulfilment centre for picking, packing & dispatch. Orders placed with all stock ready to deliver will leave the fulfilment centre within 24 hours Monday-Friday (excludes public holidays). The fulfilment centre uses Australia Post and DHL to ship products to you and all orders come with tracking and signature on delivery. You cannot 'opt-out' of the signature on delivery requirement. Where the shipping address differs from the billing address, please ensure permission is obtained for the disclosure of personal information under the Privacy Act for third party recipients.
Ordering & Delivery:
1. Goods are packed in a safe manner to prevent damage during transport
2. Goods are delivered to all regions of Australia using various transport services as stated above.
3. Orders are dispatched from Sydney, Australia on business days only (Mon to Fri -excludes public holidays).
4. If an item is out of stock, and remains unavailable for 48 hours, we will contact you by email.
5. Unfortunately, you are unable to modify your order after it has been successfully received by us.
6. Unfortunately, we are unable to redirect parcels once they have left our fulfilment centre.
7. To assist us getting your order to you as quickly as possible, please include your phone number and a valid email address to help if we need to sort out any issues with your order.
Currency:
All amounts shown on our website are in USD. All orders will be transacted in Australian dollars. The final amount is only an estimate and excludes any taxes, duties, levies or tariffs that may be imposed.
Exchange Rates:
Exchange rates change daily, and we can't be responsible for any loss incurred as a result of currency fluctuation. Please note: your credit card processor may charge you a conversion rate fee.