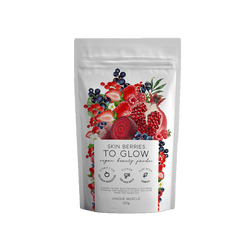 BE A GLOW-GETTER!
SKIN BERRIES TO GLOW is a unique blend of skin loving berries with naturally occurring vitamins and minerals that will help you GLOW from the inside out!
Simply drink it with water or add to your favourite shake or smoothie for an added beauty boost!

Gluten Free

Naturally Coloured

Naturally Flavoured

naturally Sweetened

No Preservatives

Non GMO

Vegan Friendly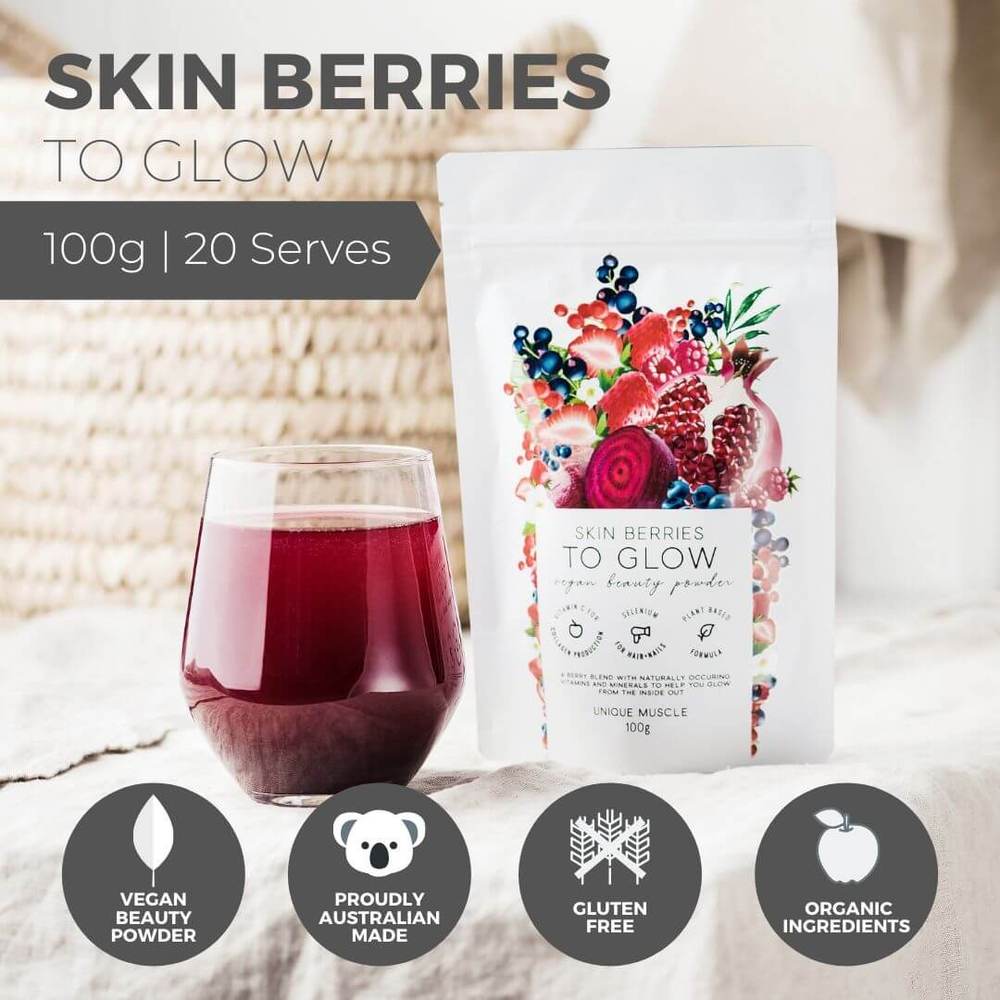 BE A GLOW-GETTER!
"I regret taking good care of my skin" said no one ever!
There is nothing worse than waking up to find a new pimple or wrinkle that a serum or mask just won't fix. A great skincare routine is not about what you put ON your skin but what you put IN your body.
SKIN BERRIES TO GLOW is a unique blend of skin loving berries with naturally occurring vitamins and minerals that will help you GLOW from the inside out!
With an intelligent selection of essential berries and fruits, our carefully crafted blend delivers antioxidant and anti-aging benefits.
SKIN BERRIES is also naturally high in vitamin C which is great for collagen production and selenium which is excellent for healthy hair and nails.
Simply drink it with water or add to your favourite shake or smoothie for an added beauty boost!
So, what's it taste like?
It tastes like…berries! If you like the taste of berries, then we're pretty sure you will enjoy taste of SKIN BERRIES! It also adds a delicious berry flavour when you add it to smoothies or recipes!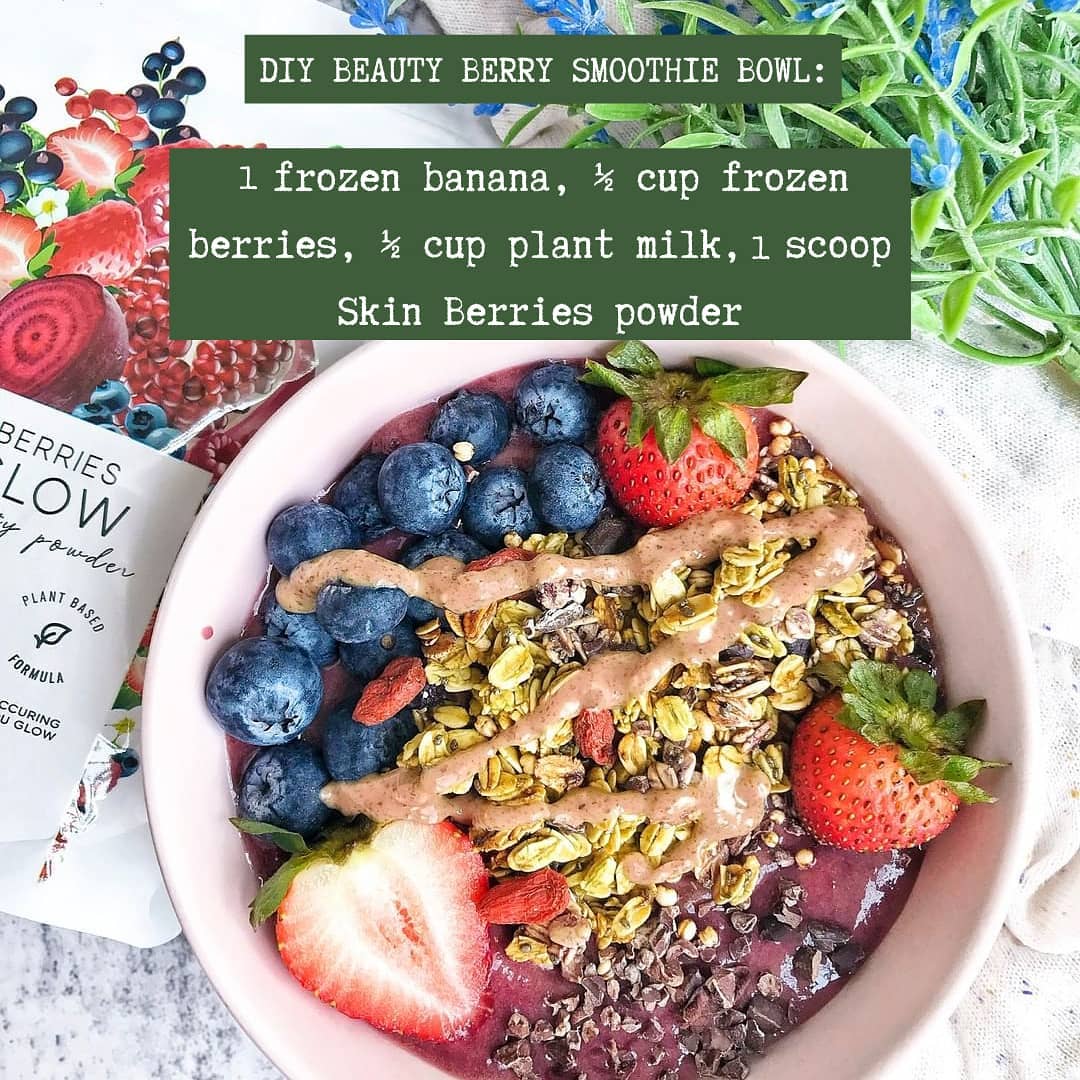 What SKIN BERRIES TO GLOW may do for you (yes, we must say "may" because we would be highly sceptical of anyone who will guarantee you results without knowing your exact personal circumstances in extreme detail!):
Help you achieve glowing skin 🧚‍♀️
Promote skin elasticity 🧘‍♀️
Provide your body with antioxidants which may help your cells fight against and recover from oxidative stress 🌿
Boost your immunity 👩‍⚕️
Turn your regular smoothies or recipes into beauty boosters! 👏
… BERRY COOL!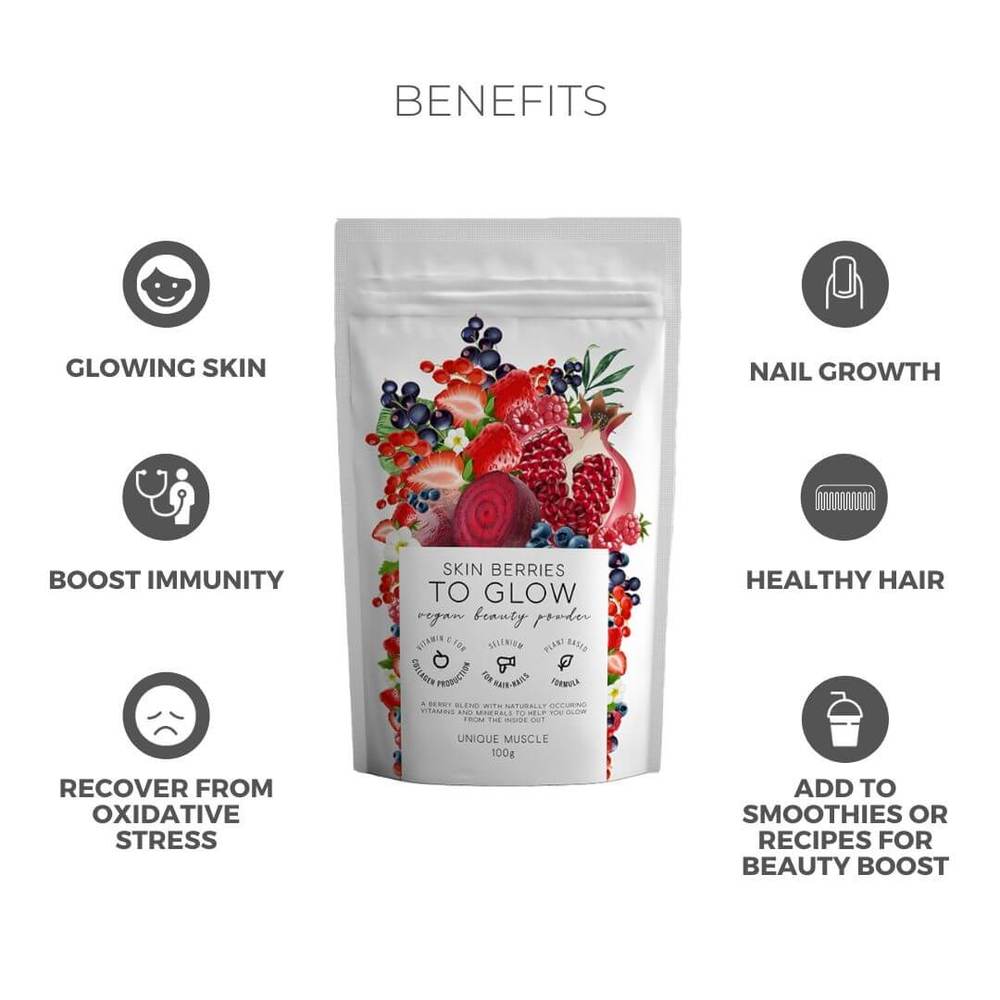 So what's in SKIN BERRIES TO GLOW that makes it work so well?
SKIN BERRIES TO GLOW contains a whole bunch of berries: Organic Purple Rice Berry Powder, Raspberry Juice, Strawberry Juice, Pomegranate Juice, Cranberry Juice, Acai Puree, Goji Juice, Acerola Cherry Powder.
Together these berries are high in vitamin C and antioxidants! Vitamin C helps to build collagen, protects mucus membranes, keep the immune system functioning and help the body fight infections.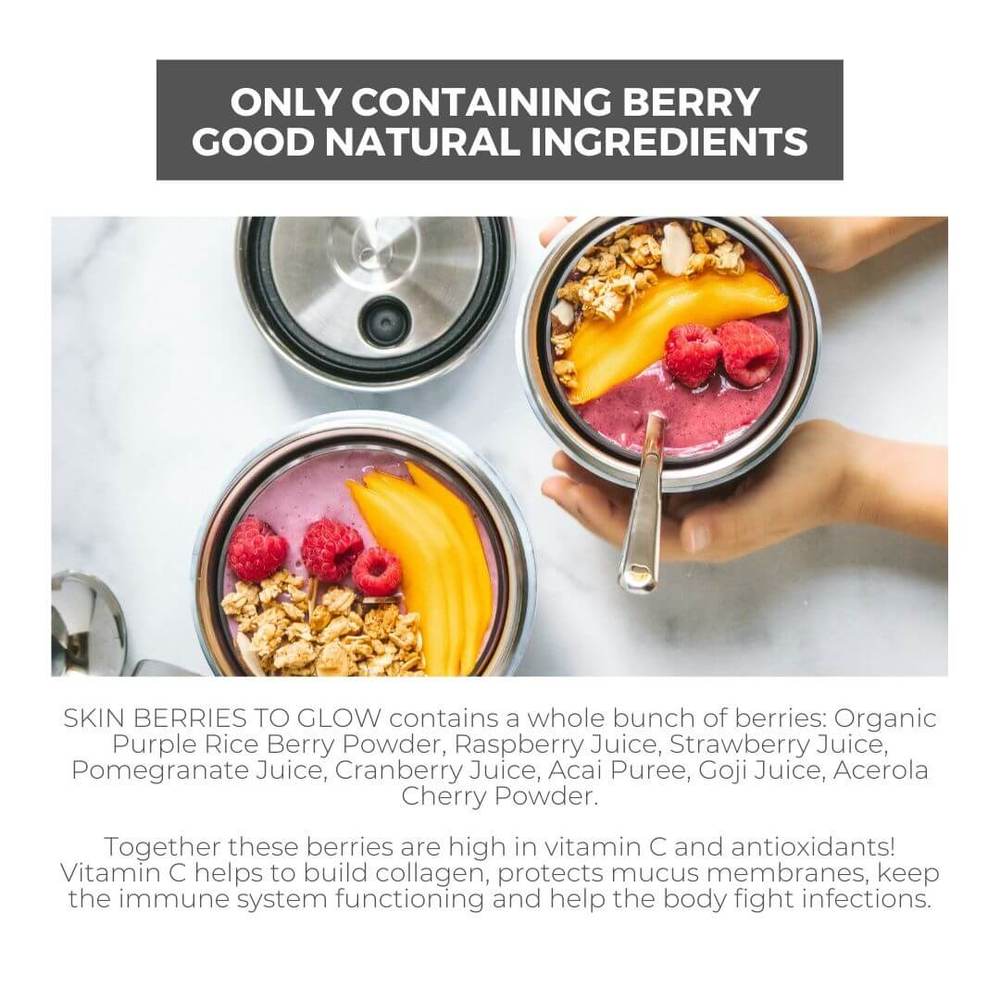 Still a little sceptical? Read the reviews from REAL and VERIFIED customers below!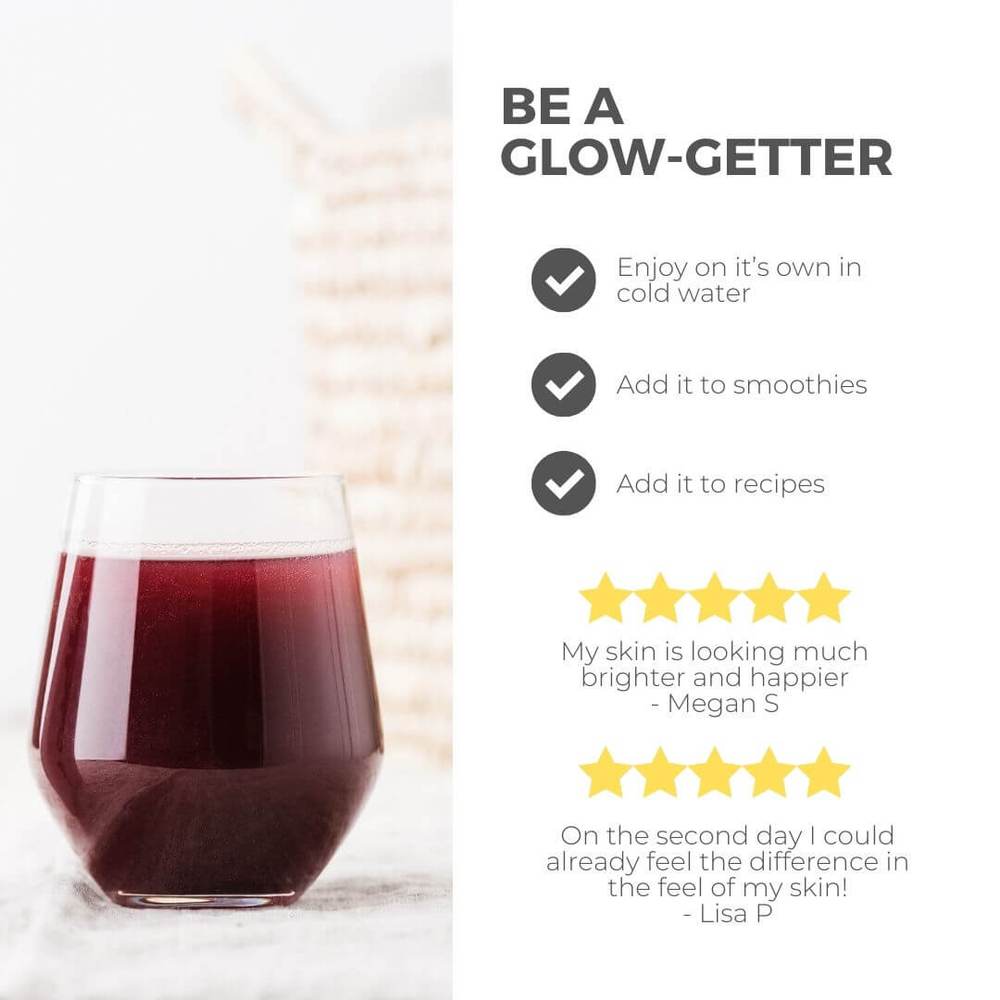 DIRECTIONS FOR USE:
Mix 5 grams (2 level scoops) with 250ml of cold water and consume immediately.
It can also be added to your favourite LEAN UP shake or smoothie.
Seal immediately after use and store below 25ºC in a cool, dry place.



SKIN BERRIES:
Berry Blend (Beetroot Powder, Raspberry Juice, Strawberry Juice, Pomegranate Juice, Elderberry Juice, Blackcurrant Juice, Blueberry Juice, Cranberry Juice, Acerola Cherry Powder, Acai Puree, Goji Juice), Acacia Gum, Natural Flavour, Malic Acid, Rice Hulls, Sweetener (Steviol Glycosides), Selenium-enriched Yeast - WE SOURCE THE BEST INGREDIENTS FROM AROUND THE WORLD!
I always add berries to my daily smoothie. Berries have so many antioxidants in them to help fight the free-radical damage. One impressive ingredient in Skin Berries Blend is the purple rice berry. In one study it showed to be nuero-protective and enhanced cognition. Another awesome berry is the Elderberry. Hippocrates who was is often referred to as "father of medicine" referred to Elderberry as his "medicine chest" and by some other classical healers is considered one of natures greatest healing plants. Elderberry is full of antiviral and anti-inflammatory constituents. Amongst the other amazing berries this blend is a great way to add some nutrition into your daily diet
- Andrea Eastley is a Clinical Nutritionist, Clinical Naturopath and Western Herbal practitioner
Shipping Policy
At Unique Muscle, we not only strive to supply the best products in the marketplace but we also strive to ensure that your order reaches you as quickly and efficiently as possible. Our easy online purchasing system ensures your order is delivered to us instantly so we can then process and send to you as soon as possible.
Delivery Time Frames:
These times may vary depending on your area.
| | |
| --- | --- |
| International Standard | 7-14 Business Days |
Delivery times do not include handling time.
Shipping Fees:
Shipping rates are calculated in USD upon entering your address during the checkout process. All applicable customs fees, taxes and duties are the sole responsibility of the customer.
Customs authorities require that the value of your order is displayed on your package – the value is the retail cost. Unique Muscle can't mark any package(s) as a "Gift" in order to avoid customs and duties fees.
Please note: on rare occasions, customs agents may delay the delivery of some packages at their discretion; this is unfortunately out of our control. For more information on customs and duties charges, please contact your local customs.
Shipping Company:
Upon receipt of your order, your order details will be electronically forwarded to our 3rd party fulfilment centre for picking, packing & dispatch. Orders placed with all stock ready to deliver will leave the fulfilment centre within 24 hours Monday-Friday (excludes public holidays). The fulfilment centre uses Australia Post and DHL to ship products to you and all orders come with tracking and signature on delivery. You cannot 'opt-out' of the signature on delivery requirement. Where the shipping address differs from the billing address, please ensure permission is obtained for the disclosure of personal information under the Privacy Act for third party recipients.
Ordering & Delivery:
1. Goods are packed in a safe manner to prevent damage during transport
2. Goods are delivered to all regions of Australia using various transport services as stated above.
3. Orders are dispatched from Sydney, Australia on business days only (Mon to Fri -excludes public holidays).
4. If an item is out of stock, and remains unavailable for 48 hours, we will contact you by email.
5. Unfortunately, you are unable to modify your order after it has been successfully received by us.
6. Unfortunately, we are unable to redirect parcels once they have left our fulfilment centre.
7. To assist us getting your order to you as quickly as possible, please include your phone number and a valid email address to help if we need to sort out any issues with your order.
Currency:
All amounts shown on our website are in USD. All orders will be transacted in Australian dollars. The final amount is only an estimate and excludes any taxes, duties, levies or tariffs that may be imposed.
Exchange Rates:
Exchange rates change daily, and we can't be responsible for any loss incurred as a result of currency fluctuation. Please note: your credit card processor may charge you a conversion rate fee.