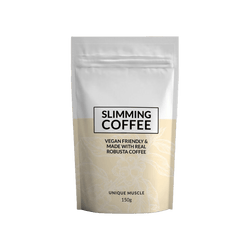 Coffee is always a good idea and our SLIMMING COFFEE is unlike any other!
SLIMMING COFFEE is an instant style coffee that has a smooth and creamy taste. What makes it better than your regular coffee? Well, we've supercharged this blend with the added benefits of potent ingredients like ginseng, green coffee bean, green tea extract and red raspberry extract powder.
Want something more versatile? Why not try our delicious SLIMMING ESPRESSO! Simply add milk and sweetener to Slimming Espresso for a sweet and creamy coffee like Slimming Coffee.

Gluten Free

Naturally Flavoured

naturally Sweetened

No Preservatives

Non GMO

Vegan Friendly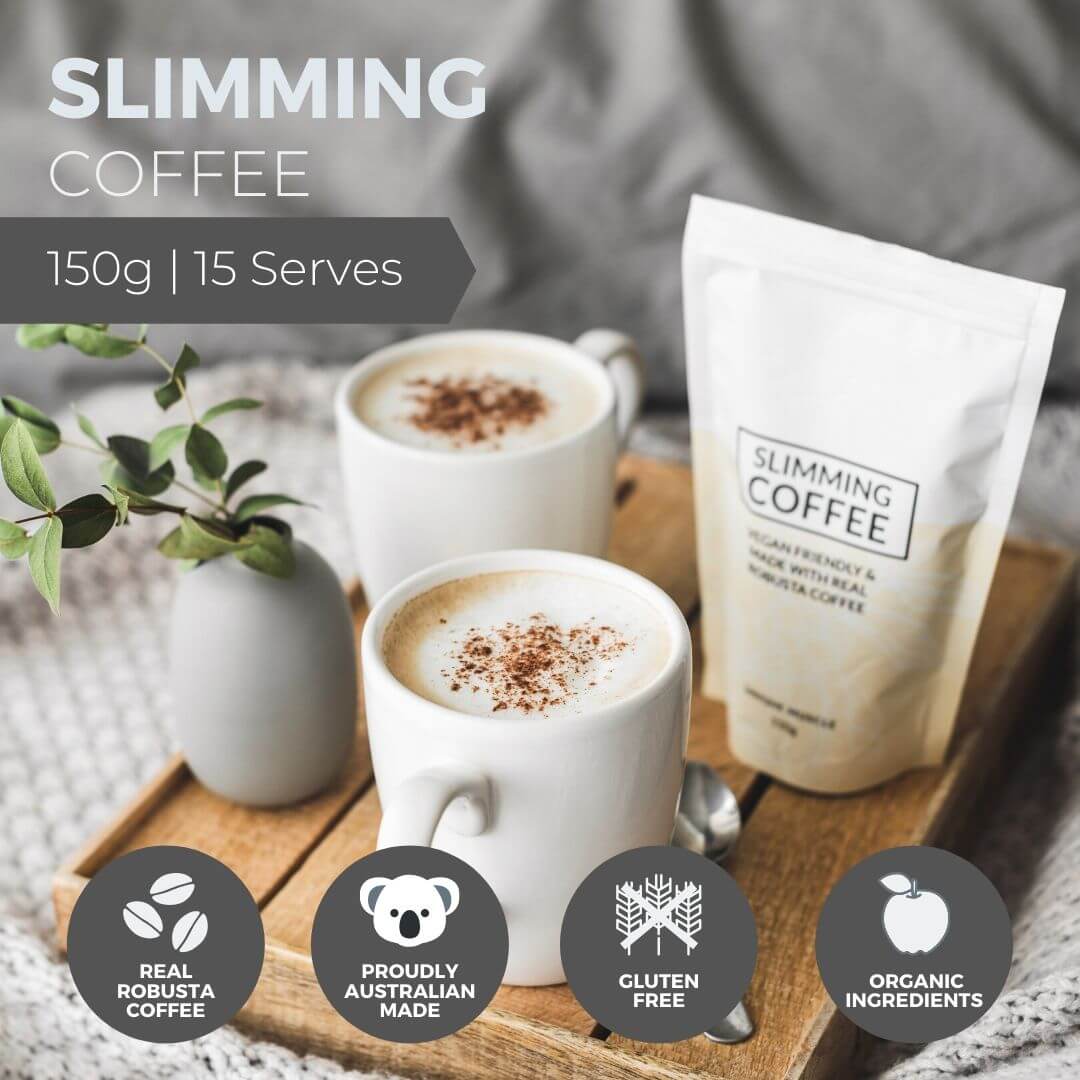 Coffee is always a good idea and our SLIMMING COFFEE is unlike any other!
SLIMMING COFFEE is an instant style coffee that has a smooth and creamy taste. What makes it better than your regular coffee? Well, we've supercharged this blend with the added benefits of potent ingredients like ginseng, green coffee bean, green tea extract and red raspberry extract powder.
Simply replace your daily coffee and with our SLIMMING COFFEE a.k.a survival drink!
You can add a natural sweetener, make it iced, blend it to make a frappe….you get the point - you can make it your own!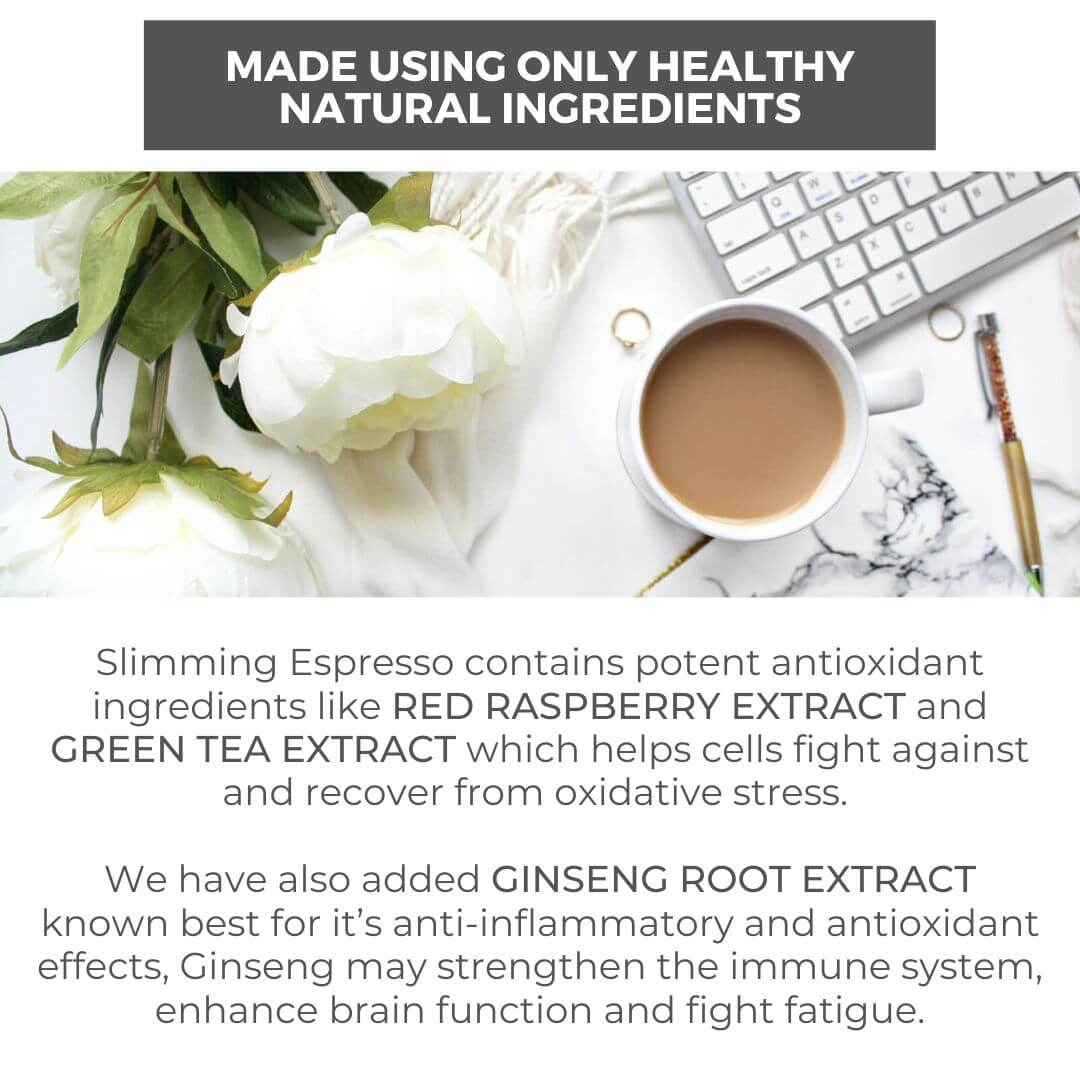 So, what's it taste like?
A creamy medium bodied and well-rounded flavour, with a rich aroma and slight fruity notes. If you're someone who likes a stronger tasting coffee, try our darker blend, SLIMMING ESPRESSO.
What SLIMMING COFFEE may do for you (yes, we must say "may" because we would be highly sceptical of anyone who will guarantee you results without knowing your exact personal circumstances in extreme detail!):
Activate fat metabolism (if you don't want it, let's get rid of it!)💪
Increase energy (maybe she's born with it, maybe it's coffee!) 🏋️‍♀️
Fight fatigue (goodbye 3pm crash!) 🧠
Help control appetite and cravings (avoid that hangry feeling!) 🍽
Support healthy blood sugar levels after eating 👩‍⚕️
… First I drink the coffee. Then I do the things!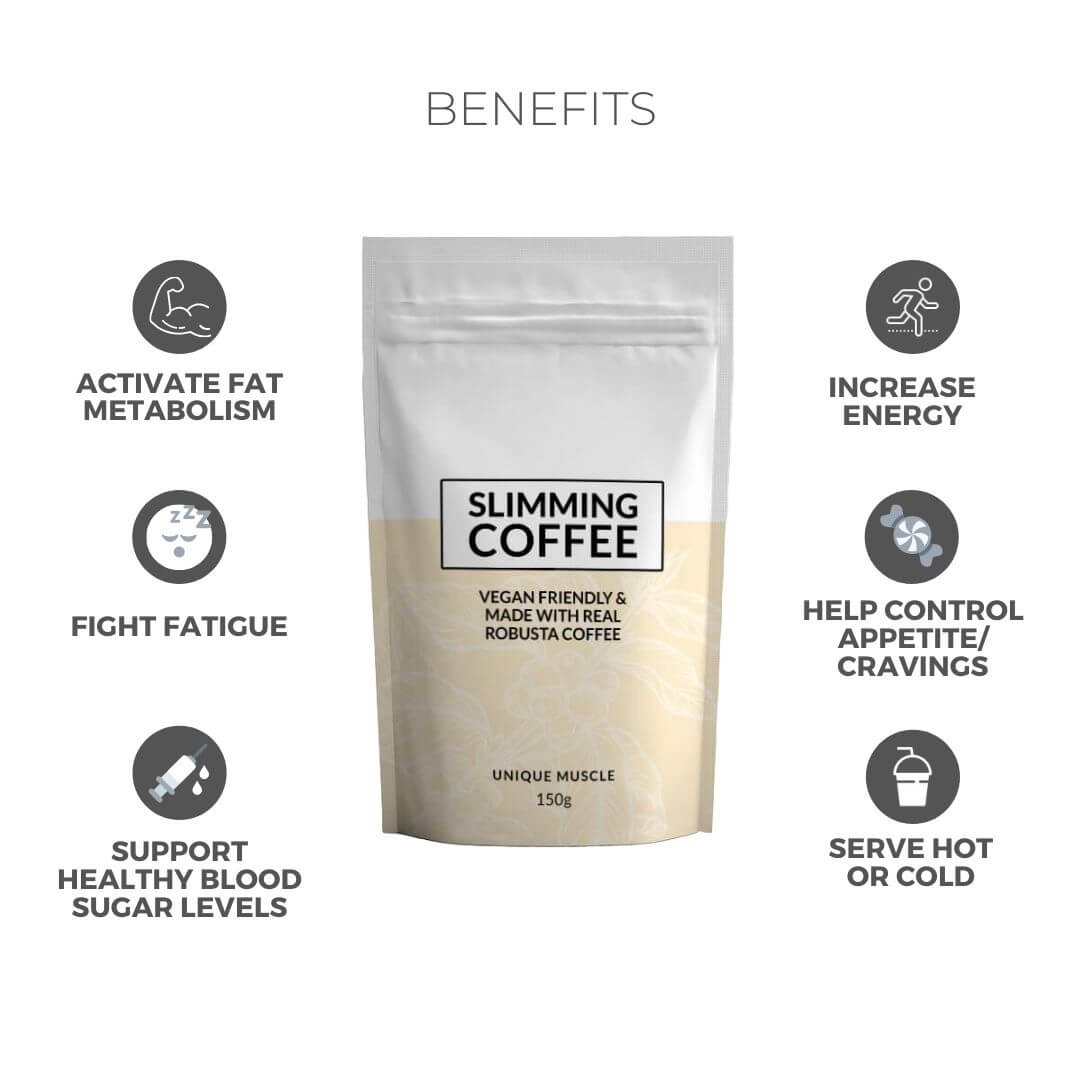 So what's in SLIMMING COFFEE that makes it work so well?
SLIMMING COFFEE contains these key ingredients:
Red Raspberry Extract Powder: Containing potent Antioxidants which may help your cells fight against and recover from oxidative stress which is linked to many chronic illnesses including obesity and heart disease.


Green Tea Extract: Like green tea, green tea extract is a great source of antioxidants. Green tea extract is also rich in catechins. Studies have shown that the combination of catechins and the decent amount of caffeine in green tea extract aids weight loss by regulating the hormones that can enhance thermogenesis. Thermogenesis is when your body burns calories to digest food and produce heat. Green tea extract has been shown to boost this process by making your body more effective at burning calories, which can lead to weight loss.


Ginseng Root Extract: Ginseng is a popular herbal supplement used for centuries in Chinese medicine known best for it's anti-inflammatory and antioxidant effects. Ginseng may strengthen the immune system, enhance brain function and fight fatigue.


Green Coffee Bean Extract: Green coffee beans are regular coffee beans that haven't been roasted and remain completely raw therefore they contain high levels of a group of antioxidants known as chlorogenic acids.
Still a little sceptical? Read the reviews from REAL and VERIFIED customers below!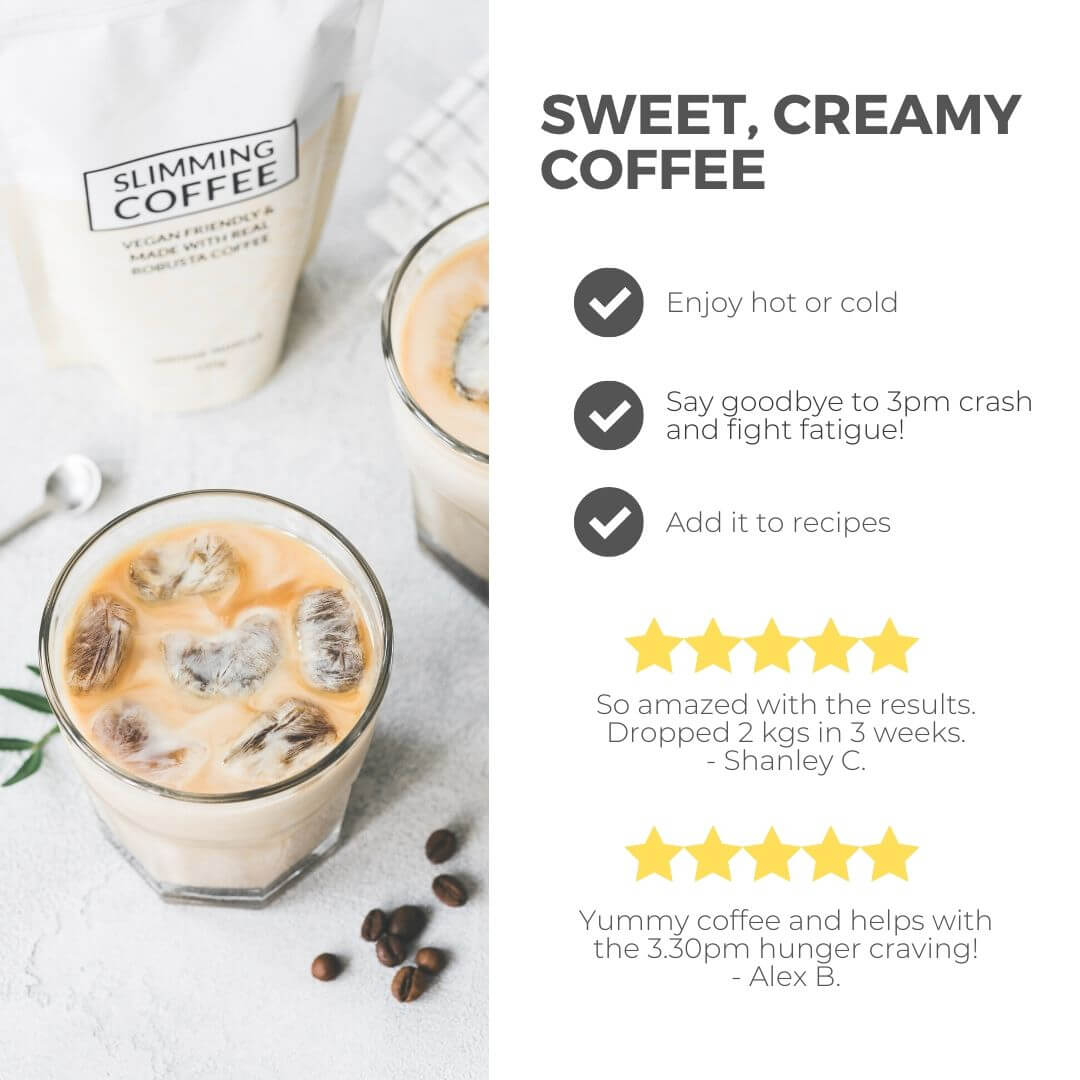 SERVES PER PACK:
Slimming Coffee comes in a 150g pack so each pack gives you 15 delicious servings of delicious creamy coffee! Serving size: 10g (approx. 2 rounded teaspoons) Caffeine per serve: 113 mg
PLEASE NOTE: If you're considering the use of any kind of detox aid, make sure to consult your doctor. People with certain health conditions (such as anemia, diabetes, low blood pressure and kidney disease) should either avoid detox diets or perform detox only under the supervision of a health care provider.
This is not a suitable product for pregnant or breastfeeding women.

DIRECTIONS FOR USE:
Simply dissolve 10g (approx. 2 rounded teaspoonsof Coffee in a cup of 200ml boiling water, add a splash of milk (soy, almond, rice etc) if desired.
Optional: Add a natural sweetener (such as stevia or xylitol). For an iced coffee, blend with milk and ice.
Recommended serving is one cup (2 teaspoons) up to 2 times per day.
Storage: Store in a cool dry place out of direct sunlight.
Try these delicious recipes with SLIMMING COFFEE:
Click here to download



INGREDIENTS:
Sweetener (Erythritol, Steviol Glycoside), Whole Grain Brown Rice Milk Powder, Coffee Powder, Red Raspberry Powder Extract (Raspberry Ketone), Green Coffee Bean Extract, Garcinia, Ginseng Root Extract, Green Tea Extract, Organic Spirulina Powder, Mineral (Chromium Picolinate).
As a clinical nutritionist I get a lot of clients asking me if they can drink coffee and what they can do to make it healthier. Unique Muscle came up with a great way with using herbs and coffee together. Red Raspberry is rich in vitamins and minerals, green tea being high in antioxidants and Spirulina being full of nutrients, it's almost like having a super shake with your coffee.
- Andrea Eastley is a Clinical Nutritionist, Clinical Naturopath and Western Herbal practitioner
Shipping Policy
At Unique Muscle, we not only strive to supply the best products in the marketplace but we also strive to ensure that your order reaches you as quickly and efficiently as possible. Our easy online purchasing system ensures your order is delivered to us instantly so we can then process and send to you as soon as possible.
Delivery Time Frames:
These times may vary depending on your area.
| | |
| --- | --- |
| International Standard | 7-14 Business Days |
Delivery times do not include handling time.
Shipping Fees:
Shipping rates are calculated in USD upon entering your address during the checkout process. All applicable customs fees, taxes and duties are the sole responsibility of the customer.
Customs authorities require that the value of your order is displayed on your package – the value is the retail cost. Unique Muscle can't mark any package(s) as a "Gift" in order to avoid customs and duties fees.
Please note: on rare occasions, customs agents may delay the delivery of some packages at their discretion; this is unfortunately out of our control. For more information on customs and duties charges, please contact your local customs.
Shipping Company:
Upon receipt of your order, your order details will be electronically forwarded to our 3rd party fulfilment centre for picking, packing & dispatch. Orders placed with all stock ready to deliver will leave the fulfilment centre within 24 hours Monday-Friday (excludes public holidays). The fulfilment centre uses Australia Post and DHL to ship products to you and all orders come with tracking and signature on delivery. You cannot 'opt-out' of the signature on delivery requirement. Where the shipping address differs from the billing address, please ensure permission is obtained for the disclosure of personal information under the Privacy Act for third party recipients.
Ordering & Delivery:
1. Goods are packed in a safe manner to prevent damage during transport
2. Goods are delivered to all regions of Australia using various transport services as stated above.
3. Orders are dispatched from Sydney, Australia on business days only (Mon to Fri -excludes public holidays).
4. If an item is out of stock, and remains unavailable for 48 hours, we will contact you by email.
5. Unfortunately, you are unable to modify your order after it has been successfully received by us.
6. Unfortunately, we are unable to redirect parcels once they have left our fulfilment centre.
7. To assist us getting your order to you as quickly as possible, please include your phone number and a valid email address to help if we need to sort out any issues with your order.
Currency:
All amounts shown on our website are in USD. All orders will be transacted in Australian dollars. The final amount is only an estimate and excludes any taxes, duties, levies or tariffs that may be imposed.
Exchange Rates:
Exchange rates change daily, and we can't be responsible for any loss incurred as a result of currency fluctuation. Please note: your credit card processor may charge you a conversion rate fee.