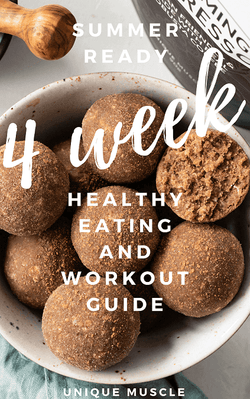 Summer-Ready 4 Week Program
NEW AND IMPROVED 4 WEEK PROGRAM!
Our NEW Summer-Ready 4 Week Program is the only healthy eating and workout guide you will need! This comprehensive program will help you to not only get results, but will also assist you to understand how to truly nourish your body and create long lasting healthy eating habits!
The 'Summer-Ready 4 Week Program' e-book consists of:
✔Over 25 Plant Based + Gluten Free recipes with Macro breakdown
✔ Nutrition Plan
✔Shopping List
✔Workout guide for the gym (with pictures)
✔Healthy Tips
✔ Steps to prepare for success
✔ Positive mindset checklist
✔Plus much more!
Once you start giving your body the love that it deserves, it will love you back and you will start to feel great and look great!

Don't follow this plan because you hate your body, follow this plan because you love your body and want to become the best version of yourself!


Please note: The Summer-Ready 4 Week Transformation guide is an e-book (electronic book) that you download, we do not send out a physical copy. Once your order has been sent, you will be able to view your order via email and download this e-book. Please ensure you have a PDF viewer to view this guide.
All I can say is WOW. This is a well thought out and easy to use healthy eating and workout guide. I love the user-friendly recipes and how each recipe has a picture, so you know what you're actually making and what it should look like. Well put together and even giving all the information about why to eat what you're eating. I love this book especially that they are using REAL whole food in the recipes and guiding the reader back to the way we should eat for optimum health. If you're feeling a bit lost and wanting some guidance this is a great place to start your journey to better health.
- Andrea Eastley is a Clinical Nutritionist, Clinical Naturopath and Western Herbal practitioner